The choice to build a basement bar isn't merely to have a space to mix drinks; it's a canvas where creativity meets functionality, where intimate gatherings find their stage, and where your unique style comes to life.
From basement bar ideas to the essential factors that demand consideration, this blog will delve into basement bars, exploring how a well-designed haven below your home can become a treasured asset for memorable moments.
7 Things to Consider to Build a Basement Bar
Let's uncork the potential of your basement and uncage your imagination as we explore why having a basement bar is the perfect addition to your living space.
1. You Can Socialize and Entertain.
When creating a basement bar, one of the foremost benefits lies in its ability to foster socialization and provide endless entertainment opportunities without ever having to leave your home.
With a basement bar, you can transform an under-utilized space into a designated gathering area for family and friends. Instead of crowding around the kitchen island or squeezing into the living room, having a dedicated space for socializing elevates the entire experience.
Imagine the convenience of having a well-stocked bar just steps away, ready to serve up refreshing drinks and tasty snacks for your guests. The relaxed and fun atmosphere sets the stage for unforgettable moments and enjoyable conversations.
Having a basement bar also adds a new dimension to your home. It becomes a centerpiece showcasing your personal style and hospitality. The sleek design, carefully selected furniture, and tasteful decor choices make a statement that reflects your refined taste. It becomes an impressive space that brings you joy.
2. It's Convenient and Accessible.
A basement bar offers unmatched convenience and accessibility. With a fully stocked bar in your basement, you no longer have to worry about going out to a bar for drinks, as everything you need is just a few steps away.
You save time and money by not having to venture out of your home, which can be particularly helpful when the weather is inclement or you'd prefer a more intimate setting for your night out.
Plus, with a basement bar, you can control the quality of the drinks and snacks you serve, ensuring you get exactly what you want and at a reasonable price.
What's more, a basement bar provides easy accessibility to refreshments when hosting game nights, movie marathons, and other types of gatherings. Gone are the days of constantly leaving the room to grab a drink or snack from the kitchen, as everything is conveniently located right where you need it.
3. You Can Add Your Own Touch.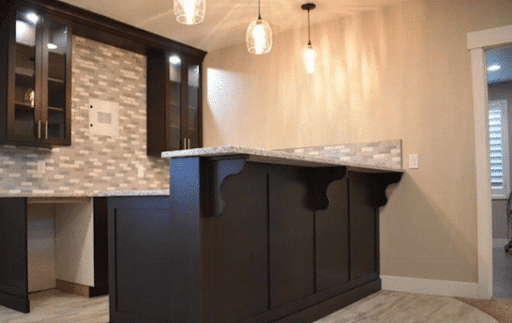 Another benefit of having a basement bar is that it adds to the overall aesthetic appeal of your home and allows for a high level of personalization.
Unlike other areas of your home that may have more restrictions on design and decor options, a basement bar can be a blank slate on which to create a unique space that reflects your individual taste and personality.
From selecting custom lighting fixtures that create the perfect ambiance to adding personalized touches such as photos and artwork, a basement bar allows you to fully explore your creative side. You can choose furnishings, textures, and finishes that complement your home's design and add to your space's overall aesthetic appeal.
Moreover, having a basement bar can add monetary value to your home when it comes time to sell. Many homebuyers today seek unique, personalized spaces that stand out from the cookie-cutter designs often seen in new construction.
When you create a customized and inviting basement bar, you create a statement that sets your home apart and promotes its value. It is a space uniquely yours and an area where you can showcase your style while adding appeal and value to your home.
4. You'll Need To Assess How Much Space You Have.
Start by assessing the overall dimensions of your basement. Consider factors such as ceiling height, floor area, and any architectural features that might impact the placement and design of your bar.
A cramped or poorly designed space can lead to an uncomfortable and inefficient bar area, while a well-utilized space can create a welcoming and enjoyable atmosphere.
As for traffic flow, consider how people will move around the bar area. Ensure enough space for bar stools, standing room, and traffic flow without creating bottlenecks or obstructed pathways. A well-designed layout should promote easy movement and interaction among guests.
You'll also need functional zones. Determine the various functional zones you want within your basement bar. Apart from the bar, you might want areas for socializing, game tables, a lounge, or even a small dance floor. Allocate space for each zone based on its intended use and the number of people you anticipate hosting.
Your available space will significantly influence the design options for your basement bar. A larger space might allow for a more elaborate and spacious bar setup, while a smaller space might necessitate a compact and efficient design. Consider whether you want a straight bar, an L-shaped bar, or a U-shaped bar and how these options will fit into your basement's layout.
5. You'll Need To Follow Legal Requirements.
To follow legal requirements, you'll need to research your local regulations, obtain necessary permits, design with safety in mind, work with professionals, go through inspections and approvals, and possibly obtain a liquor license.
If all these steps seem overwhelming, we recommend hiring a professional company that will complete all those steps for you as part of the installation process.
6. You'll Need Lighting and Ambiance: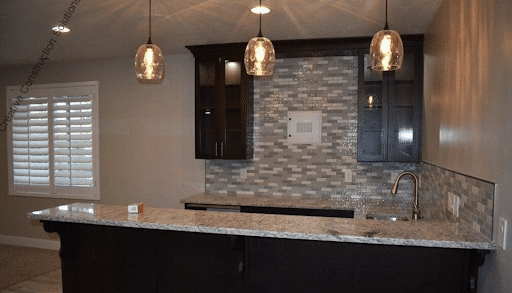 The ambiance and lighting in your basement bar play a pivotal role in setting the mood, enhancing the aesthetics, and providing a welcoming atmosphere for your guests. Choosing the right ambiance and lighting can transform your basement into a cozy and stylish retreat.
Start by deciding on the theme or style you want for your basement bar. Whether you envision a classic pub, a modern lounge, a rustic tavern, or a tropical escape, your chosen theme will guide your design choices, including ambiance and lighting.
7. You'll Need Bar Accessories and Equipment:
A well-equipped basement bar goes beyond just having a countertop and beverages. You'll need to stock up on the right bar accessories and equipment to create a functional and enjoyable space.
These items make drink preparation easier and add to the ambiance and experience. Here's a comprehensive list of essential bar accessories and equipment to consider installing in your basement bar:
Bar Tools:
Cocktail shaker
Mixing glass and stirring spoon
Jigger or measuring tools
Muddler
Strainer
Citrus reamer or juicer
Bottle opener
Corkscrew
Glassware:
Highball glasses
Lowball glasses
Martini glasses
Wine glasses
Champagne flutes
Shot glasses
Beer mugs or pint glasses
Liquor Display:
Shelving or display area for showcasing your liquor collection
Backlighting or accent lighting for the display
There you have some basement bar ideas! Installing a basement bar is a wonderful way to connect with others and enjoy life to the max without leaving your home!
However, a lot goes into installing a basement bar, so you should leave this task to the professionals. That's where CCS of Utah comes in to bring your basement bar ideas to life.
Contact CCS of Utah Today
Are you ready to build a basement bar? CCS of Utah offers the Creative Construction Solutions you're looking for. We design and build basement bars every day and would love to work with you to create the basement bar you're envisioning.
Call us at 801.318.0242, email us at [email protected], or fill out our contact form to get started with your basement bar today!